Tree Removal
Trees, while very valuable to customers, can also pose risks to your family and property. Whether a tree has grown too close to a foundation or driveway, has overgrown its space, or has defects that increase the risk of failure, some trees simply need to be removed. Have concerns about a particular tree? Let our Certified Arborist discuss your options to ensure your peace of mind.
Tree Pruning
There are many ways that you can benefit from pruning trees. Whether it is to open up a view, improve tree vigor and overall health, or to clear limbs from encroaching on a building, Windy Ridge Tree Care and Consulting can offer a host of pruning options that will benefit both the customer and tree.
Regular trimming and pruning by a Certified Arborist is the best way to keep trees safe and healthy in the long term. In fact, it might be the single best investment a property owner can make when it comes to ensuring the value of the property.
Storm | Emergency Tree Work
Living in the South Georgian Bay area, we didn't simply pick our name out of the wind, so to speak. Our area faces unique wind and weather challenges in all four seasons which can result in broken limbs, uprooted trees, and damaged trucks. Windy Ridge offers 24/hr emergency service to ensure that customers are cared-for during these unfortunate events. Have concerns about the condition of trees on your property? Let our Certified Arborist discuss the condition of your trees and how to mitigate risk on your property.
Property | Construction Consultations
The number 1 cause of tree health decline is attributed to human-caused damage. Heavy foot traffic and machinery can compact soils and put stress on the tree. The excavation of roots associated with landscaping and construction can also damage the water and nutrient absorbing capabilities of trees, in turn, leading to decline. Windy Ridge is available before, during, and after construction/landscaping activities to ensure proper care is taken to preserve your trees.
Tree Health Diagnosis
Our Certified Arborist is trained to identify common disease and insect infestations and apply the proper treatments. Windy Ridge Tree Care and Consulting believes in continuing our education and keeping up to date on new threats to trees in our area, ensuring that you get the most comprehensive assessments.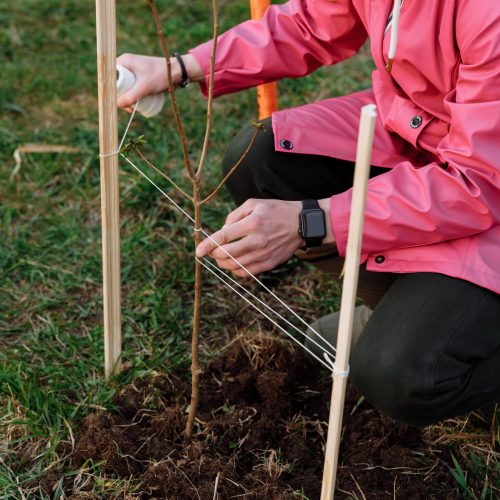 Cabling & Bracing
Sometimes trees have defects from growth, but you don't want to remove a mature tree from your property. We think that is a great decision! There are many modern support systems that can help the tree to naturally support itself, or to prevent damage in the event of a failure. Let our Certified Arborist explain your options for saving your tree.
Tree Planting
We love planting trees! It is a great way to accent your landscape and to add future value to your property. Arboriculture professionals live by the motto, "The right tree, in the right place."  Some spaces allow for large, sprawling species while some areas require a more compact variety. Let our Certified Arborist help you to pick the perfect tree for your property.
Tree Fertilization
Just like humans, sometimes trees need some extra nutrients in the soil to encourage growth, reduce stress from human interaction, or to resolve a deficiency in an imperfect soil. Windy Ridge Tree offers deep-root fertilization as well as surface applications to properly feed your tree. Let our Certified Arborist help you determine if there are any fertilizers that could help boost your tree's overall health and vigor.